You may not own your own place, but you still have things worth protecting. RAC Renter's Insurance gives you fire and theft cover from as little as $4 a week, plus you'll get extras like discounted movie tickets.
Our renter's insurance will give you
Fire and theft cover
Cover for loss, destruction or damage caused by fire or theft, for a value of up to $25,000. If your things would cost more than $25,000 to replace, consider RAC Contents Insurance cover instead. Try our contents calculator to estimate the cost to replace your contents.
Cover for your things
TV, sound system, games console, clothing, jewellery, trade tools and even your bike. See optional extras for Personal valuables to cover items like your iPad, watch and engagement ring outside of your home.
New for old replacement
We'll replace damaged, lost or stolen items covered under your policy with new ones.
Fixtures and fittings
We'll cover fixtures of the building you rent which belong to you as the tenant, up to $5,000.
Contents whilst in storage
We'll cover contents kept in secure storage against fire and theft up to $5,000.
Legal liability cover
Cover for damage to other people or their property whilst on the property you rent as the tenant.
You'll become an RAC member
When you purchase RAC's Renter's Insurance you automatically become an RAC member and have access to great extra benefits so you can make savings every day.
Local claims team ready to help
We know WA. We drive on the same roads, we live in the same suburbs, and we experience the same things, so when it comes to claim time we are on the ground and ready to make things better for you, seven days a week.
Need a little more? Upgrade with our optional extra
Ask about or select this during the online quote process to add it to your cover.
Personal valuables cover

Protect your valuables which you take outside of your home with this cover. For example if you add your engagement ring, your watch, or your iPad as a personable valuable on your policy, it will be covered for accidental loss or damage anywhere in Australia. Add these items when you get a quote and they will be added to your policy cover.
Contents replacement cost calculator
Contents calculator
Get an estimate for the cost of replacing the contents of your home. List actual items for a more accurate estimate.
Award winning home insurance
The quality experts at Canstar surveyed over 5,500 home insurance policy holders across 32 insurers nationally and awarded RAC with WA's Most Satisfied Customers - Home Insurer Award for the second year running. It's proof that our members are at the heart of everything we do.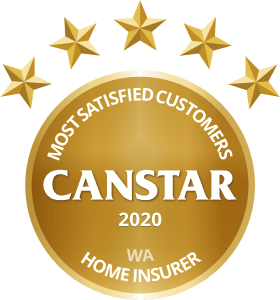 RAC members save more
As a member you get access to great discounts & offers
$35 discount applies to your first year of insurance only. This discount is subject to minimum premiums and is only available when you switch to this policy online.
This product is issued by RAC Insurance Pty Limited. Benefits are subject to policy conditions and PED Guide. Before you make a decision, please check the PDS to see if the policy is right for you.
Switch and save $35 online in the first year