Trial start date: 17 January 2023
As someone who's driven a 4WD for over 10 years, hopping into an EV was a new and exciting experience for Ben, a doctor from Wembley.
Ben was skeptical of EVs prior to the trial. He was unsure whether they'd do the job his trusty Toyota Prado had done for so many years.
Join Ben as he goes about his daily life, impresses his friends and family with the Polestar 2, and slowly comes around to the idea of an EV as his next car.
| | |
| --- | --- |
| Age group | 20-29 |
| Location | Wembley |
| Occupation | Doctor |
| Current car | Toyota Prado |
| Trial car | Polestar 2 |
| Total kilometres travelled | 104km |
Before the trial: EV skeptic After the trial: EV believer
Day 1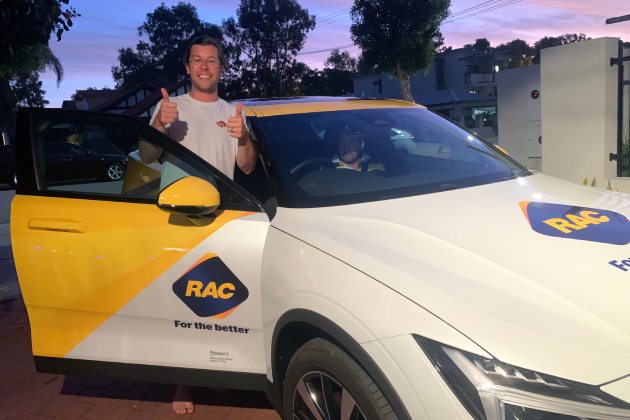 After picking up my EV, I took a short drive around the city and went off to show the car to my wife and in-laws.
It took a bit of getting used to the accelerator and regenerative braking but once I was in control, there was no stopping me.
The car interior is lovely and spacious. And much more exciting than a Tesla. There is also plenty of boot space and the chargers are easy to use.
I must say, the Polestar 2's turning circle wasn't the best and reversing into my garage was thus difficult. Additionally, both wing mirrors tilt down when reversing and this makes it difficult to navigating spaces. But overall, I loved the first day.
Benefits or surprises
The interior was much more exciting than I expected, having only seen Teslas before.
Challenges or frustrations
Turning circle and reversing.
Kilometres travelled: 12km
Charged: No charge but I will at home.
Day 2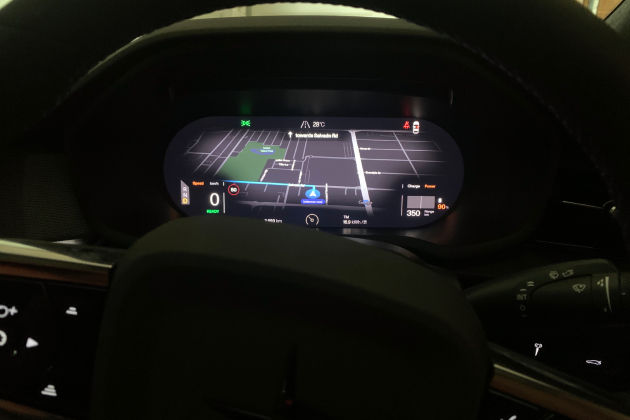 Went for an evening drive to my parents' house and took them for a ride. They loved it. Great feel and comfortable.
Mum particularly loved the glass roof and dad loved the big screen. Always good sharing the fun.
Benefits or surprises
Easy cruising on the freeway. I was able to easily control the cruise control.
Challenges or frustrations
The unlock/lock via Bluetooth was very fickle today. Takes a bit of time.
Kilometres travelled: 21km
Charged: Home charging. Nice and easy.
Day 3
Nice drive up to Karrinyup for dinner with good friends and home along the coast. Lovely smooth sailing. Enjoying the large route map and good acceleration.
Benefits or surprises
The large map and route planner in front of steering wheel is great.
Challenges or frustrations
The Mojo app is very fickle and takes a while to unlock the car.
Kilometres travelled: 20km
Charged: Home charge. No issues.
Day 4
Driving around the wife and her friends tonight between running my own errands. Lots of small trips and the EV was perfect.
Although, the unlock/locking on the Mojo app was rather annoying and took a lot of time.
Friends were impressed with the comfort, great aircon and quietness of the car.
Benefits or surprises
Aircon working like an icy breeze.
Challenges or frustrations
Mojo app yet again being trouble.
Kilometres travelled: 19km
Charged: Home charge again. Way easier.
Day 5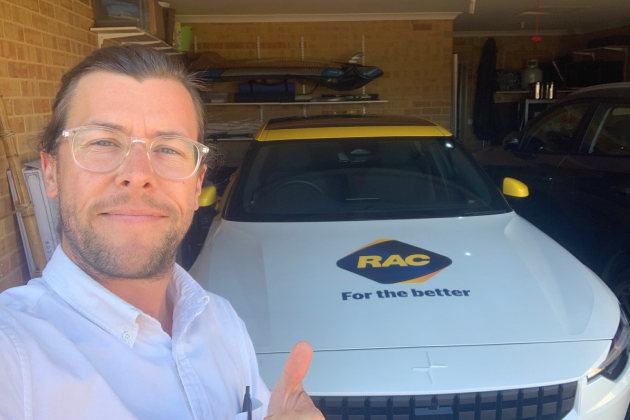 Morning trip out to Marangaroo golf course.
EV working a dream on the freeway. Acceleration is powerful but not jerky.
Got some attention in the carpark and tried my best to sound knowledgeable. Very much considering an EV option in the future.
Benefits or surprises
Acceleration fast but smooth.
Challenges or frustrations
Mojo app unlocking taking a few attempts to work again.
Kilometres travelled: 27km
Charged: Home charge and left it on while I was out. Stops charging when it reaches 90% which is great—don't have to remember to turn it off.
Day 6
Unable to unlock car with the Mojo app and was in a bit of a rush this morning so no EV driving for me today.
Benefits or surprises
No.
Challenges or frustrations
Unable to unlock the car with Mojo app.
Kilometres travelled: 0km
Charged: No charge today.
Day 7
Last day with the EV. Only a sad short drive after work back to the RAC head office.
We made the most of it together, nice soft tunes playing and pleasant vibes.
I'll miss the smoothness and the comfy interior.
Consider me 80 per cent sold on EVs. Just make a 4WD option and more charging stations and I'll be there.
Benefits or surprises
The usual happiness of driving an EV.
Challenges or frustrations
Not today.
Kilometres travelled: 5km
Charged: Plugged back into the RAC carshare parking with perfect ease.
EV experience in a nutshell
It was great to experience driving and living with an EV. I had little knowledge of them prior and was slightly skeptical, so this was great exposure for me.
In terms of the experience, the EV was much easier to use than I originally thought and felt great.
Driving it was easy, comfortable, and smooth. Nothing was complicated, including charging. I haven't seen my electricity bill yet, but it should be okay. The acceleration of the vehicle was fast but comfortable.
I also found home charging great and easy. However, public charging was difficult and not worth the effort. It would be nice to have more public space options including fast chargers.
If I could improve a few things, I'd say longer range, a 4WD option and more public chargers available would make EVs more attractive to buy.
Want to trial an EV?
If you would like to be involved, please register your interest and we'll keep you up to date on possible future trials.