Trial start date: 14 February 2023
Chris is a technician from Pearsall and father of two. Participating in the EV for a Week trial gave him and his family a good opportunity to see if an EV would work for their lifestyle.

Fuel prices are the main reason Chris would consider purchasing an EV. His main concerns leading into the trial were charging speed and the availability of charging stations. Follow Chris as he takes his kids to school on the way to work and ends the day with after-school activities and family dinners.
| | |
| --- | --- |
| Age group | 30 - 44 |
| Location | Pearsall |
| Occupation | Technician |
| Current car | Hyundai i40 |
| Trial car | Polestar 2 |
| Total kilometres travelled | 487km |
Before the trial: EV believer After the trial: EV believer
Day 1
I picked up the EV at 3:30pm. After pairing my iPhone, familiarising myself with the technology and setting the destination, I was off to Wangara to collect my daughter. She was very excited to see, and experience a drive in, what I had labelled the "egg", after the eye catching colour scheme.

My current car doesn't offer much technology. Having a large screen for the maps, as well as the drivers instrument cluster is a definite improvement.

The drive to Wangara was seamless. The car is comfortable, although a little squeezy for space. The seats and overall finish is nice. One downside is the exclusion of USB-A ports. Also, the rear child locks are directly related to the rear window lock. I understand the principle behind it, however children these days enjoy pushing buttons, and my son sometimes gets car sick, so allowing him to be able to wind down his window is important.

The EV was a pleasure to drive. I love the torque being available whenever it's required. Being able to accelerate quickly to the speed limit, I believe, is a safer option.

After arriving home, and after dinner, we went out to my sister-in-law's house to introduce the nephews to an EV. I ended up taking them all for a drive around the 'burbs. They loved the acceleration and braking. Enjoyed the sing along with media connectivity and being able to see our location on the maps on the tablet.

Awesome first day!
Benefits or surprises
I love regenerative braking. Unless there's an urgent requirement for slowing down, modulating the accelerator is more than sufficient.

Less wear and tear on the braking hardware equates to less money spent on maintenance.

The inclusion of the real time map, speed and important information in the driver's instrument display is something I feel should be implemented across the EV board. We are used to looking there for speed information etc., so it feels like a natural place to look. I know Tesla do not offer this.
Challenges or frustrations
Inclusion of only USB-C ports. Sure, USB-C is the way all newer peripherals are heading, but my old phone comes with a USB-A, so will require a new cable. No Apple CarPlay for me! First world problems.
Kilometres travelled: 40km
Charged: No charging requirements today. Apparently, I have a low consumption driving style!
Day 2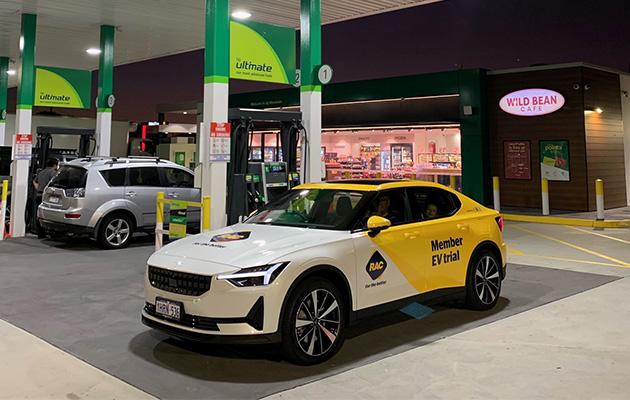 Dropped the kids to school. Was the talked about car in the car park. I'm amazed how such young children have embraced the EV revolution. I'm sure it goes hand in hand with their now common place use of technology, and what is available in a car.

Drove the freeway to work. Modulating the accelerator is arguably the best part of the driving experience. Who needs brakes!? Connected my iPhone to use as the media player. Also signed into my google account which updated the car with my history. Pressing 1 button and having the route to work drawn up for me with live traffic updates is awesome!

After work we went out the Whitfords for dinner. I didn't look, but I am not aware of charging stations at Whitfords shops. I know Karrinyup offers them.

After dinner, we took my in-laws for a drive and got the kids ice cream from McDonalds, which was conveniently located next to a BP. I couldn't help but take a photo at the bowser.
Benefits or surprises
Logging into Google account and having live traffic on the drive to work. Awesome. As is said yesterday, my car doesn't offer this technology.
Challenges or frustrations
None.
Kilometres travelled: 40km
Charged: Not today. No requirement yet!
Day 3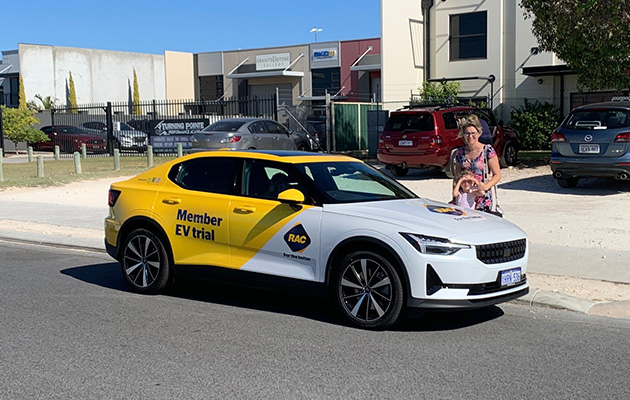 Dropped the kids to school. Talk of the school car park!

Drove down the freeway to work. Noticed the radio stopped working 3 times. It seemed as though the station memory was lost. Opening the radio app, there was nothing shown in the list. After 5 seconds, the list refreshed and the play button had the music begin.

Mid-morning I drove from Osborne Park to Wembley. On this drive the audio wasn't working at all. The radio was on. I could change stations, but it had no impact on the lack of audio. The media player was connected, I could change songs and see the pause button on the iPad mirroring on the phone. The volume was adjustable, so the system was responding to the inputs.

Once I parked at Wembley, I set about trying to fault-find. I turned the car off and back on via the iPad. Hoping this was a sort of hard reset, however it didn't fix the issue. I deleted, and re-paired my phone, but the same issue was present. I ended up locking, and then unlocking the car. This step fixed the issue.

I haven't had an audio issue since.

Dropped my daughter to cheerleading, then home.
Benefits or surprises
Still going on the initial charge.

Discovered the trip meter. Showing the current Kwh/100km average, distance and time. Interesting stuff for an enthusiast like myself.
Challenges or frustrations
Audio inoperability. Rectified by lock/unlock process. Would have been a bit of an issue if we were on a long drive.

I've come to the conclusion that an EV like the Polestar is perfect for pottering around town. Very economical. Pleasure to drive. I love the concept of EV's, however for a family, we would require a larger SUV model to handle all the bags, bike rack etc. I'm sure 10-15 years from now Toyota, or similar will bring out an SUV with decent range and plenty of space for luggage. It also needs to be cost effective. $120K for a family car is a bit steep with the cost of living etc. being considered.
Kilometres travelled: 40km
Charged: No charge requirements today. Down to 150km (30%) range.
EV experience in a nutshell
What's not to like!? I liked the overall experience. The smooth driving. Regenerative braking. Technological features. Efficiency.

What could be improved? Faster charging and more readily available fast charging. Improved range. Improved baggage space.
Want to trial an EV?
If you would like to be involved, please register your interest and we'll keep you up to date on possible future trials.