Trial start date: 07 February 2023
Franz is an engineer from East Victoria Park. The environmental benefits of an EV is what sparked Franz's interest in joining the EV for a Week trial.

His main concern going into the trial was battery life for long trips. Follow Franz as he puts the charging network to the test while road tripping to New Norcia and Pemberton.
| | |
| --- | --- |
| Age group | 45 - 64 |
| Location | East Victoria Park |
| Occupation | Engineer |
| Current car | Toyota Rav 4 |
| Trial car | Polestar 2 |
| Total kilometres travelled | 1350km |
Before the trial: EV believer After the trial: EV believer
Day 1
Picked up the car and left the RAC premises around 4:30pm and drove home, approx. 10km. The briefing session was quite useful to get me started, it included a discussion about how to use EVs, compared to ICEs in general.

Should EVs just replace ICEs and be used in the same way, or should the transformation to EVs be part of greater changes, e.g. include other modes of transport, especially in the city, such as walking and public transport? I think yes; nothing beats a pub in walking distance, not a pub with a large car park.
Benefits or surprises
The car is extremely quiet, especially at low speed. One-pedal operation needs a bit of self-control - the right foot automatically reaches for the brake pedal.
Challenges or frustrations
No problems.
Kilometres travelled: 10km
Charged: Charging at home, without any problems.
Day 2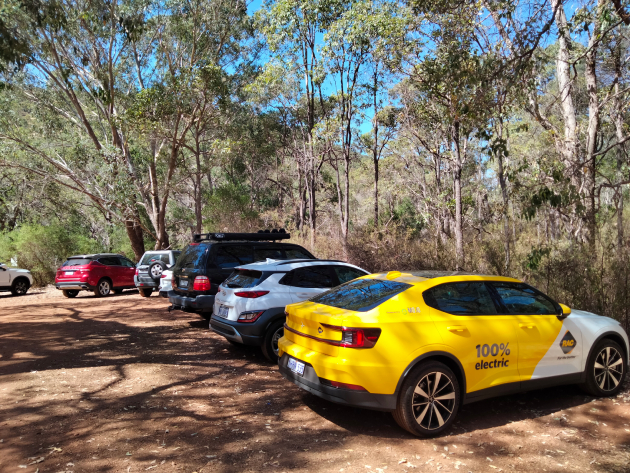 I made it a very easy day, just getting started around 9:30am towards the south-west corner of WA with the intention to reach Pemberton by mid-afternoon.

Using an ICE car, I would have filled up the car at the last low-price fuel point, which would bring me all the way down to Pemberton.

With the EV, reaching Pemberton with one charge would be tight under the best of circumstances. Because of my habit to never take the shortest route, a charging stop would be necessary.

I am also allergic to planning; fortunately looking at some ChargeFox and PlugShare maps I find there are charging stations throughout the South West. So, nothing to worry about, right?
Benefits or surprises
Driving an EV compared to an ICE was quite relaxing. As an electric engineer I am probably a bit biased towards electric motors but electric motors are more responsive and smoother than combustion motors.
Challenges or frustrations
I am a person who uses a mobile phone very rarely. There may be weeks when I don't use it at all. To have to use my smartphone to interact with the car is a new experience for me, and one I would be very happy to miss. Locking/unlocking the car seems to work fine with Bluetooth but requires the phone to be very close to the door handle.

Otherwise, the fall-back solution is the network. If that network happens to be Optus it's better to be in a large town. When I tried to lock the car at my accommodation a bit outside Pemberton, I got an error message. I got the same error message again after a retry.

When I tried the door, the car was locked, so nothing to worry (I thought). When I tried to unlock the car a bit later, the same story: error message (not able to connect to a network).

Trying again several times more: same results. Only after I put the phone really close to the door (something like 10cm instead of 1m), it miraculously worked.
Kilometres travelled: 405km
Charged: At home over night, at fast charger in Bridgetown, and a not-so-fast charger in Pemberton. Charging was a disaster.

A bit south of Bunbury I decided to look for the nearest charging station. ChargeFox on my mobile phone was of no use because of no Optus network. But the car itself could help and came up with Nannup as being on the way (well within reach and requiring only a short detour).

There is a charging station in Nannup, actually with two chargers. One seems to have been installed by the local shire and is out-of-order and by the look of it for some time. The other was hardly recognisable because of all the cobwebs.

It turned out to not be a major problem because the next station was in Bridgetown, still well within reach. The charging station in Bridgetown was well maintained, spotless clean, and working like a charm.

I used the opportunity for a short stroll through Bridgetown, had a nice cup of coffee and a meat pie in a lovely place called Fats Betty, and after an hour my car and I were ready to continue to Pemberton.

At the motel in Pemberton, I asked about the possibility of charging the vehicle overnight. Most units have a power outlet outside, and I could park the car within easy reach, but charging would occur only with 10A.

There is a fast charger in Pemberton, with 50kW - but it's not working. Still there is another one with 32A, much slower, but working.

Please whoever is responsible; RAC, ChargeFox, local councils - get your act together and standardise charging stations and maintain them properly.
Day 3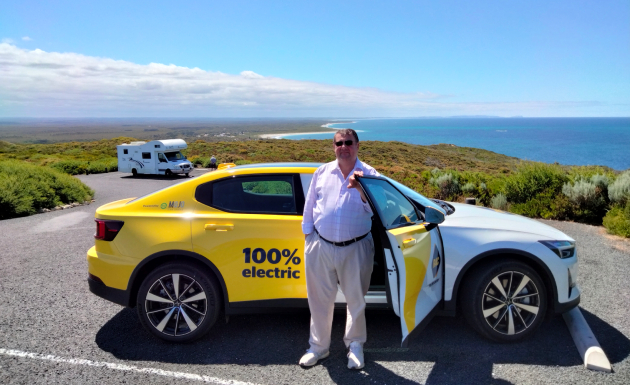 I first went on a short trip to the Gloucester Tree just outside Pemberton. But the tree was closed for climbing. Still, the area is great for short or longer walks, especially in the morning when the air is still fresh.

After that came a drive to Northcliffe with their Understory art exhibition, then continuing to Windy Harbour and up to Point D'Entrecasteaux. The Polestar did the climb much faster than yours truly on foot last winter.

After that it was driving back and stopping for a nice lunch at RAC Karri Valley Resort for me, and hooked the Polestar up to the charging station.
Benefits or surprises
Driving an EV is great. Quiet, smooth, responsive. It takes time to get used to not having an idle state, i.e. no starting, or stopping, the engine.

Charging the EV encourages a change in mind set. Normally I am wasting 20 minutes for a fueling stop, with awful coffee and questionable lunch, while not having a proper break. Today I had a nice walk at the RAC Karri Valley, the restaurant is about a 20-minute walk from the charging station. I could sit down, enjoy a meal and relax.
Challenges or frustrations
Locking and unlocking the car is still tricky. I am not sure whether there is something wrong with the setup of my phone or if it's a real bug in the system.
Kilometres travelled: 160km
Charged: From a standard power point at my motel unit overnight (fully charged this morning), then on the Type2 charger at the RAC resort, and now again at the motel to have a full charge again tomorrow.

Charging at the Electric Highway station at the RAC resort was not a big problem. It didn't work on the first attempt, but removing the cables, and repeating the process again did the trick.

One has to be fair: if I remember correctly, when petrol stations changed their way of operation from full service to self-service in the 1970s, back in Germany, that also did not go entirely smoothly, and drivers needed some time to get used to filling up their car themselves.

Once you charge your car a few times, you either know the procedure, or you just repeat the initialising if it doesn't work the first time.
What is a bit disappointing is what you could call false advertising: up to 22kW really means charging with 32A (i.e. something like 8kW) and adds only about 50km during a lengthy lunch break of 1.5 hours.
Day 4
Late start with a short drive to Big River Dam about 5km outside Pemberton and nice walk around the lake. Then driving to Manjimup to the PowerUp electricity museum. Not much else after that, except relaxing around Pemberton.
Benefits or surprises
I solved the problem with locking/unlocking. Just for fun I repeated the Bluetooth pairing between my phone and the car. I got an error message (pairing failed), and since then locking and unlocking via Bluetooth works every time the first time.
Challenges or frustrations
The Polestar came with a new challenge: after unlocking and getting in the car I tried to start driving. But there was a message: key missing, see manual. Locking and unlocking the car solved this problem. I think the car has a strange sense of humour.
Kilometres travelled: 85km
Charged: Charging at the station in Pemberton. This station and the Polestar know each other, and got on with each other quite well, meaning charging worked first time.
Day 5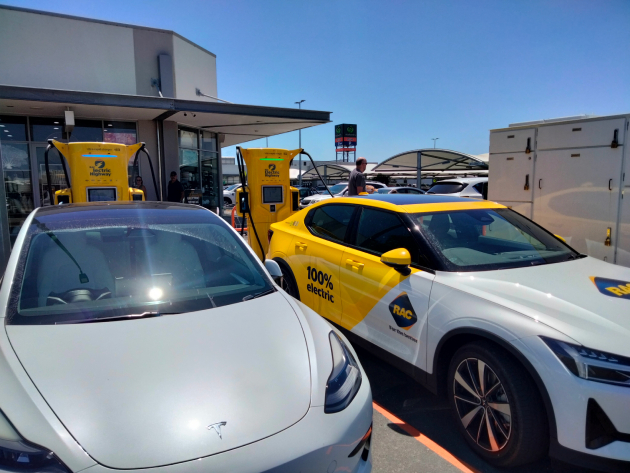 Leisurely drive from Pemberton back to Perth. Start with coffee in Pemberton, lunch break in Australind where I treated the Polestar to a deluxe charge at RAC's Ultra Rapid Charger. The car even got company during the charging session.

Then another stop at Serpentine Falls (unfortunately access to the Falls is only for pedestrians and the car had to wait at the car park), then driving back to Perth, and another charging stop at the Mineral Resources Park, the Headquarter of the West Coast Eagles Football club.
Benefits or surprises
Rapid charging is rapid, indeed. By now I am so used to how everything works (okay, there is the car's strange sense of humour with the locking/unlocking game).
Challenges or frustrations
The car played the unlocking game again this morning; it needed three attempts to let me in the car.
Kilometres travelled: 400km
Charged: Ultra rapid charging in Australind and Perth/Lathlain. Worked each time at the first attempt. The downside with rapid charging is there is little time for a decent lunch or dinner. But that is a good problem to have.
Day 6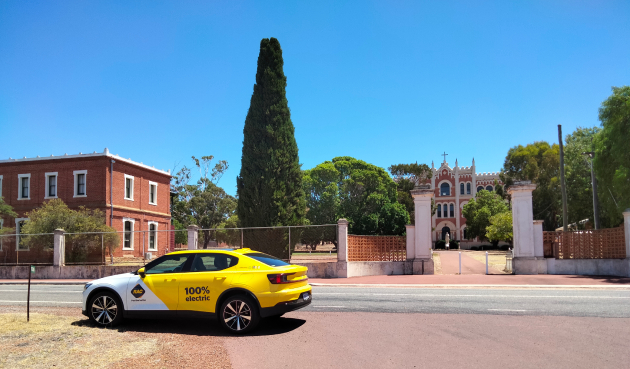 Planned was a visit to the local farmer's market for a cup of coffee, and then a drive to New Norcia. The charging network north of Perth seems to be very thin, or even non-existent, at least as far as ChargeFox is concerned. Nevertheless, New Norcia should have been well within reach without the need for a recharge.
Benefits or surprises
A visit to the same rapid charging station as yesterday before and after the trip. Charging without any problems. That was about the only positive thing today.
Challenges or frustrations
I could unlock the car without any problems but could not lock it again five minutes later at the farmer's market (East Victoria Park). After about 15 attempts I gave up and drove back home. There I could lock and unlock the car without any problem. Returning to farmer's market again, I could lock the car this time. But as my favourite coffee van was not on site, I decided to drive up to New Norcia.

The car indicated 88% charge, and 340km range; that should have been enough for the return trip to New Norcia. The car's navigation system found a way to New Norcia (131km) and said the battery status upon return would be -7%, so there was obviously a contradiction. I decided to charge the car up to 100% anyway and drove to the next fast charger. Charging started without any problem, and I could lock the car and go for a coffee. Even better, upon my return I could also unlock the car.

The drive up to New Norcia was pleasant, nothing bad to say about driving the Polestar. In New Norcia there was no way to lock the car. The error message indicated no network connection. My phone confirmed it had no internet connection. Before serious frustration could set in, I decided to just drive back home.

Back home I paid my now favourite charging station another visit, and charging started without problem. The car would not lock, and my phone would confirm it still had no internet connection (Optus). Just before the charging was finished, my phone came back to life, telling me it was online again. Now I also could lock and unlock the car again.

If a mobile network problem results in losing control over the car there is something wrong with the system.
Kilometres travelled: 280km
Charged: Public charging station, without any problems.
Day 7
Driving to a local shopping centre for some grocery shopping and working at home for most of the day.
Benefits or surprises
Nothing to write about.
Challenges or frustrations
When returning the car, it indicated low tyre pressure. Turned out there was a flat tyre. I stopped at a nearby car park, and informed Mojo about the problem. A Mojo representative and RAC Roadside Assistance took over from there.
Kilometres travelled: 10km
Charged: No charging.
EV experience in a nutshell
It was great having access to the EV for an extended period so I was able to take it on a lengthy road trip. Planning a road trip made it necessary to find out about the charging station network. Right now it is possible to go many places in WA with an EV, however it is not possible to go to all places.
With a bit of flexibility with where you can go, as far as long distances are concerned, replacing an ICE with an EV is already a possibility. Using the EV without a mobile phone would be great.
Want to trial an EV?
If you would like to be involved, please register your interest and we'll keep you up to date on possible future trials.