Trial start date: 02 May 2023
Razvan is a software developer and took the opportunity to trial an EV for a week to understand how one could fit into his everyday life. He and his wife enjoyed the experience, enjoying drives to the beach, local parks and to the south-west of WA.
| | |
| --- | --- |
| Age group | 30 - 44 years |
| Location | Subiaco |
| Occupation | Software Developer |
| Current car | Nissan Pathfinder |
| Trial car | Polestar 2 |
| Total kilometres travelled | 646 |
Before the trial: EV believer After the trial: EV believer
Day 1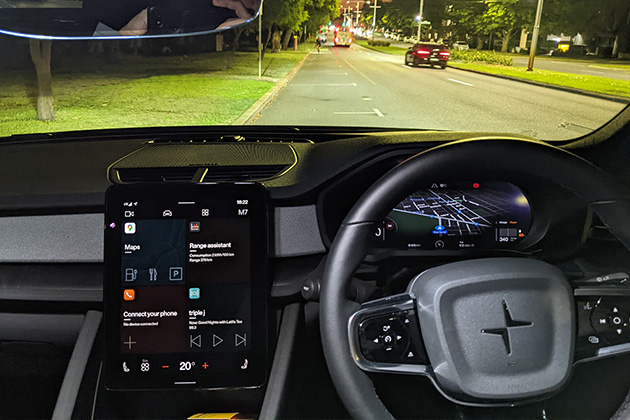 I took my wife to South Perth as we enjoy walks on the foreshore, then came home on a longer route to become more accustomed to the car. In the end it's a way to get from A to B, but I did enjoy the new car smell, the quiet and stable ride, the comfort.
Benefits or surprises
I found cruise control easy to use, and I liked the speed limit detection. The mirrors automatically adjusting when reversing is also nice.
Challenges or frustrations
Regenerative braking can be challenging for some. My wife got nauseous as she could not anticipate all the accelerations and decelerations I was making. I was on cruise control for some of the time, but braking from that proved tricky with standard regeneration. If you tap on brake to cut cruise control, 1-2 seconds later regeneration would make itself felt, our heads would jolt forwards, and I would have to apply a bit of throttle to make it gentler. Also, the view through rear window is smaller than I'm used to.
Kilometres travelled: 60km
Charged: No charging yet.
Day 2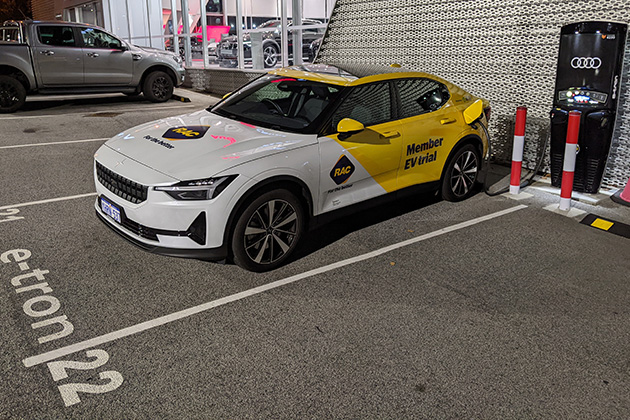 I didn't get to do much driving today. I went to the office and showed the car to colleagues. On the way home I thought I'd have a go at charging, as I had kept reading that it's sometimes an issue to find available chargers and I was a bit worried - I just got the car and I already had range anxiety! I found a compatible fast charger at Audi in Osborne Park.
After a bit of fumbling, I managed to get it going. The battery charged from 76% to 90% in under 15m. At some point, while sitting inside, I heard some faint funny noise, like my Nissan's fuel pump makes when I put the key in, only fainter than this. Looking through the status info on the car's display I saw nothing suspicious to indicate a problem.
Benefits or surprises
Charging was easy and fast enough at Audi in Osborne Park. Merging onto Mitchell Freeway southbound from Murray St is much easier in this car than my Nissan - I find this on-ramp tricky and unsafe, as it goes uphill and one has to accelerate quickly despite that.
Challenges or frustrations
At one point I pressed "Lock" on the app and it said "locked" but there was no sound and sure enough I could open the door - this was right when I was showing the car to a colleague! I think I just pressed unlock again and it fixed it - probably helps that my MoJo app was installed later than some other participants' versions, maybe it has less bugs.
Kilometres travelled: 11km
Charged: Charged at public station - Audi in Osborne Park. It was easy and quick.
Day 3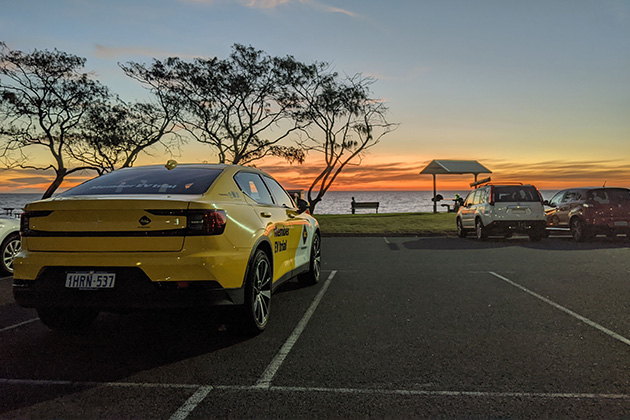 Went for a leisure drive to watch a late sunset at City Beach. Then went home the long way, to enjoy driving the car.
Benefits or surprises
Charge level went from 90% to 65%. A drop of 25% for 118km is not too bad, so it would be around 450km on a 100% charge. The car is pretty quiet in the city. No issue with locking/unlocking. I got more comfortable with Standard regenerative braking.
Challenges or frustrations
Rougher tarmac becomes noticeably noisier in the car. Not having paired my phone with the car, Google Maps seem to work offline, but it can't do routing, nor does it know about actual speed limits.
Kilometres travelled: 118km
Charged: No charging today.
Day 4
I went to the RAC fast charger around noon, thinking it should be quick at that time, and I could keep working on my laptop while technology was working its magic. After following the steps on the display (which are a bit different from the ones in the flyer in the glovebox) I got an error and was directed to unplug. I then proceeded to repeat the same steps in the same order a number of times, with the same result: "return plug" on the charger, "error" on the car's display. Eventually I gave up, though maybe calling MoJo support would have helped.
I'm typing this in the evening, sitting in the car next to the same charger. It worked immediately this time, charged from 63% to 90% between 19:52 and 20:15. The car makes some soft noises every now and then during charging, whirrs, thumps... I didn't do much else today, but I'm hoping to take a longer trip tomorrow.
Benefits or surprises
No surprises, I just like the car.
Challenges or frustrations
It's kinda bad you don't have a separate key - what happens if the battery gets depleted? Would you be able to enter the car to seek shelter? Or leave the car to seek help? Some internet from the car would be nice, even if paid for separately. It's a computer on wheels, so why not? Oh, and the Chargefox or PlugShare apps, or the possibility to install others, so that you can better plan trips. There is an "LTE" in top left corner of display, so some connectivity is there, but probably more for internal stuff like connecting to the MoJo app. It got stuck on a speed limit of "90", likely misreading a "30", and kept that for a while, so I would take that info more like a suggestion.
Kilometres travelled: 15km
Day 5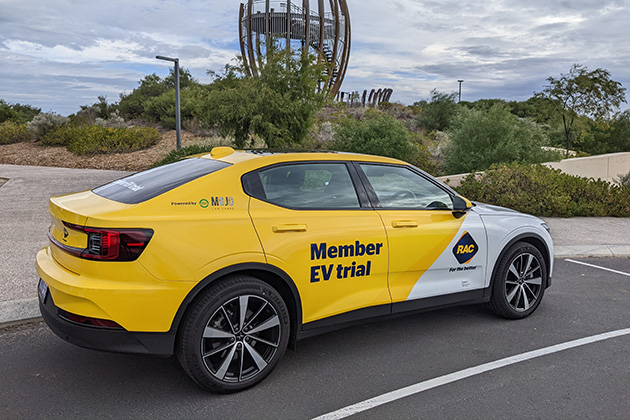 Went for a drive to Bunbury. My initial intention was to go further, but I hadn't paid attention to the forecast. Anyway, almost half a battery later we were there, and I was (again) a bit anxious about range and charging.
Upon looking up on the Chargefox app I found that I was very close to the RAC charger, so I left the car there and went to a restaurant for some food. About half an hour later, when I received a notification on my phone that the battery was at 86%, I went to collect the car, thinking someone else might need the charger. There was nobody waiting, but it made sense to have the car closer to the restaurant. I guess this is different from my normal car: with the latter I know I just put petrol in it, nobody's waiting for their turn after I'm done with the station. The notification is really useful.
Later, after coming back to Perth, I visited a friend and showed him the car. He managed to find the manual in the car's computer, which was good as I can now look for various things in there.
Benefits or surprises
I found the car comfortable to drive for longer distances. The sunroof proved useful when a pelican flew over the car and my wife could follow it with her eyes through the sunroof. Locking and unlocking with the phone is pretty quick if I am next to the door and, funnily enough, it seems quicker when the internet is turned off on the mobile.
Challenges or frustrations
Charging proved easy enough this time, but this whole range anxiety thing is making me anxious - I find it challenging.
Kilometres travelled: 380km
Charged: I charged at RAC in Bunbury, it was easy and convenient enough - I went to get some food in the meantime.
Day 6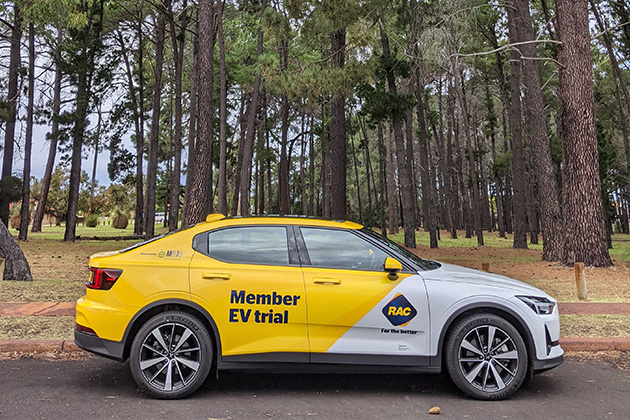 After a quick stop at Aspects in Kings Park we continued on to Winthrop, and took a walk around Robert Smith Park, then finished with some shopping at Aldi and headed back home.
Benefits or surprises
Did I say I liked the car? I failed to impress my wife with the fancy way of operating the boot via buttons: "OK, cool now can we please go home?" I like the side mirrors, good enough for me, especially since the rear window is quite small. Luckily even this small window was OK as I didn't have anybody sitting in the back to obstruct my view. Rapid charging for my phone was nice.
Challenges or frustrations
I could not find a way to lower the central display's brightness, so I resorted to pulling down the notifications drawer (similar to my Android phone). Display wasn't too bright/bad, but I wouldn't mind if I could have dimmed it. All the light types confused me, particularly dipped beam vs daytime running lights. Auto lighting is recommended in the manual, the driver is responsible for the vehicle's lights, but the current lights status could be improved.
Auto high beam seemed to be enabled and very eager to kick in when I collected the car - the EVs frontal lights seemed to go rather high ahead of me. Less gadgets than I remember seeing in a Tesla I drove some time ago - no 360 degrees camera view unfortunately.
Kilometres travelled: 62km
Charged: I only waited for about 15 minutes at RAC's charger today, but a few other cars came while I was waiting for the car to charge. The black chargers seem to be in high demand, which makes it odd to see one has been unavailable at times. This is according to a fellow EV driver I chatted to, who graciously left earlier to allow me to step in - much appreciated! 20 minutes to get 32kW which is about half the battery's capacity. Granted, this was up to 75%, so charging speed is higher. Maximum I saw was around 120kW at 27%. No drama when charging this time, either.
EV experience in a nutshell
I am grateful to have taken part in this trial. I had a nice looking and comfortable EV on hand for a whole week, it was awesome! I learned hands on a bit more about using EVs and the surrounding infrastructure.
I found the car comfortable, even on a longer trip from Perth to Bunbury. It is quiet in the city, easy to drive, and the range is good even for longer distances. Having more charging stations and maintaining existing ones would be one of the top priorities.
EVs are just one piece in the puzzle to lower our emissions. Electric bikes and scooters would do more good in the city, along with small electric (shareable) cars - it's just better economy to move.
Want to trial an EV?
If you would like to be involved, please register your interest and we'll keep you up to date on possible future trials.