Trial start date: 30 May 2023
Rebecca typically drives short trips of about 40km per day, so range anxiety wasn't a concern before starting her EV for a Week trial.

She did have reservations about how realistic it would be to charge an EV outside of home though, given herself and her husband work in suburban schools far from Perth's city centre. Rebecca's also conscious of making the most of solar power when charging at home.

Follow her days and see if an EV could fit into her future.
| | |
| --- | --- |
| Age group | 30 - 44 years |
| Location | Butler |
| Occupation | Teacher |
| Current car | Toyota Camry Hybrid |
| Trial car | Polestar 2 |
| Total kilometres travelled | 411 |
Before the trial: EV believer After the trial: EV believer
Day 1
I go straight from collecting the car at RAC Head Office on Wellington Street to a talk in the city on climate change (seems fitting!). The car feels made for city driving - it glides along so smoothly and has a nice turning circle. The reverse camera gives a wide (and very clear) view.
Benefits or surprises
A nice surprise is that the car fits in the 'small car only' bays in CPP parking, making it easy to find a spot. The single cup holder in the front suggests that this is a car for the single person, not families, but since I'm on my own tonight, it's not a problem.
Challenges or frustrations
Once I've stopped bunny-hopping along, (while adjusting to the one-pedal driving), the car is an intuitive drive. The big challenge will be tomorrow, when I attempt to fit a rear-facing car seat, a booster seat, and a pram, into its much smaller footprint than my current sedan.
Kilometres travelled: 44km
Charged: My usual car is a second-hand hybrid, so I'm used to only filling up once a month. Often, my husband has to remind me to check the tank, so heading home knowing that I should 'Always Be Charging' feels like a bit of an imposition!
I can already tell that if it was my car, not a trial car, I'd be getting pretty slack about charging. I have a 330km projected range to go, so I'd definitely make the 40km round trip to work and back tomorrow without the home charge, but I do it anyway.
Day 2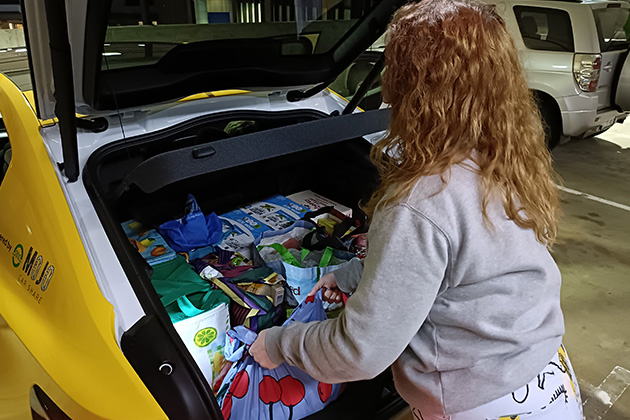 A usual workday, then home to fit the car seats and pick up my husband and two youngest children to go grocery shopping.
Benefits or surprises
The surprisingly large boot fits groceries for 6, albeit with the pram left at home. I really didn't think both car seats would fit, but they slide in easily (although this does limit legroom for the front passenger seat).

The Polestar 2 is a rear air vents unicorn - both that and the panoramic sunroof keep the kids happy, while I enjoy how smoothly the car glides over car park speedbumps.
Challenges or frustrations
Some design aspects of car - the rear air vents in the back, but limited cupholders in the front, for example, make me think that this is a car designed for Uber drivers or single people, rather than for a couple or family.
Kilometres travelled: 40km
Charged: The car still has hundreds of kms to go, so I don't bother charging it tonight.
Day 4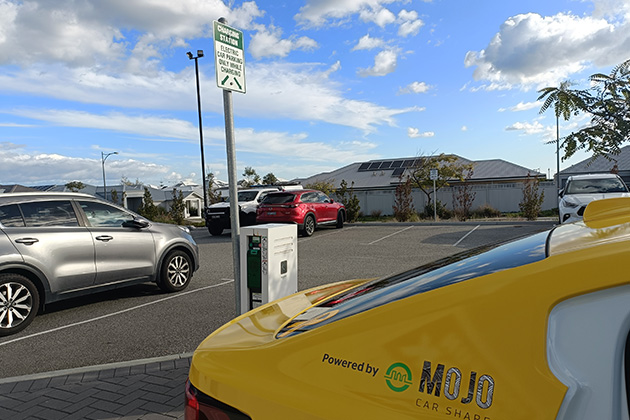 It's Day 4 and seems like it's probably worth trying to charge the car, so after work I pick my toddler up from day care early and we head to Bunnings Mindarie to use the free chargers (any excuse for a Bunnings trip, let's be honest!).

I don't think to check the Plugshare app before we arrive, so we get there to see both bays in use, with at least two hours to go.
Benefits or surprises
We head to Alkimos, and despite school traffic are able to find EV parking on the Chargefox network.
Challenges or frustrations
Here, despite many promising beeps, we never get past the 'initialising' stage, so after half an hour of trying to charge we head home to charge instead. All in all, we've spent nearly an hour trying to charge, and despite getting home in time to make use of solar power for at least some of the charging, I'm in a pretty foul mood.
As I've been warned, home charging is pretty slow - we've gained about 5% after two hours. The closest fast charger is 27km away at a small shopping centre. I'm beginning to think that EV life in the outer northern suburbs is a few years away from being comfortable.
Kilometres travelled: 45km
Charged: Home charging overnight.
Day 5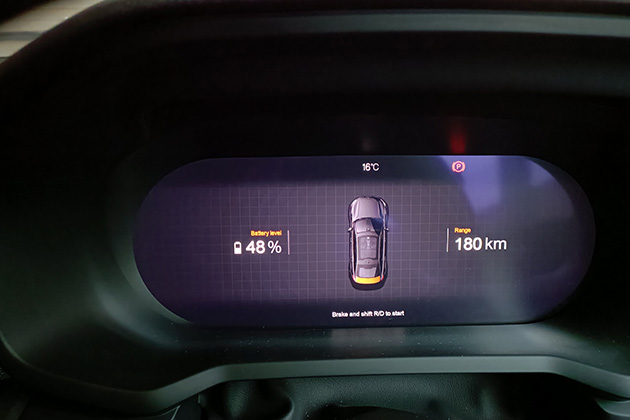 We head to church in the morning, then to a friend's fundraiser in The Vines in the afternoon.
Benefits or surprises
The pram fits! There isn't room for much else but at least I know it's possible. Having maps on in the car means that there's no guess work - Google tells me that I'll have 58% when I arrive at my friend's house, and 45% when I get back home.

I drive there via Neaves Road, which means I get to experience the car at 110km and it is smooth. It gets up to speed quickly, and once it's there, there's no roaring or rattling - we're nicely cocooned while the car speeds along. My friends are keen to come outside and see the car, and everyone loves the look (and lack of sound) of it.
Challenges or frustrations
Now that I've driven an EV, I'm wondering if range anxiety is only felt by people who've never been in one. I make it back home with the car on 48%, and although being below 50% initially makes me a bit nervous, that dissipates when I realise that I still have 180km to go - enough to get me to work and back for the next four and a half days at least!
Kilometres travelled: 142km
Charged: I put the car on to charge when I get home - making use of what sunlight is left for solar-powered charging. I still have to charge overnight to get back to 90% though. I think that until home battery prices come down, an EV is not really an option for me yet.
Day 7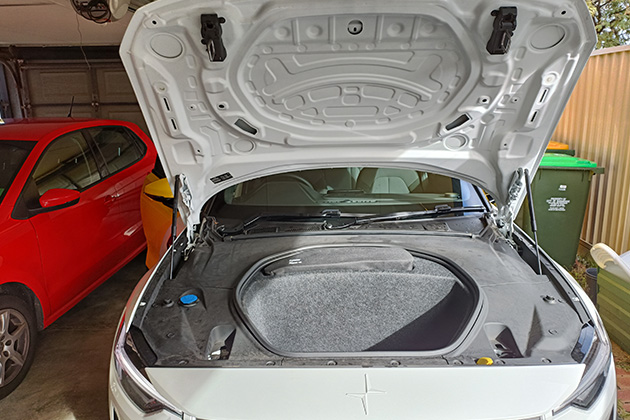 I'm prepping dinner after work when my teenager comes in and asks me to go show her driving instructor the car - apparently he's spent the whole driving lesson asking her questions about it.
Benefits or surprises
The driving instructor has a hundred questions - how does it feel to drive, how quickly does it use battery, what's the legroom like etc. But, the moment that blows his mind (as it did mine) is when I pop the bonnet to show him the storage space underneath.

I think that there's some part of my mind that initially expected to see everything under the hood looking the same, with a battery where the engine should be. It's a reminder of just how different EVs are to see that instead, there's space to store a charging cable and the jack.
Challenges or frustrations
I'm surprised that adaptive cruise control doesn't come standard for a car I'd consider to be in the premium price range - when I look it up, it's part of a $3400 extras pack.

The sound system is fine for podcasts but not really great for listening to music. Again, that seems surprising in a car at this price point. But the sound isn't a dealbreaker.
Kilometres travelled: 40km
Charged: I don't charge the car. There's plenty of range left.
Day 9-10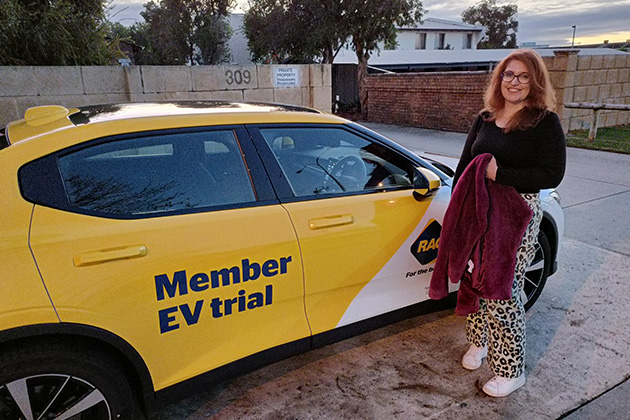 Friday night we head into the city for an art exhibition and dinner, picking a friend up along the way.
Benefits or surprises
The Polestar shines in inner city driving - it's a smooth ride and makes the most of the chances for regenerative braking. As it's smaller than my regular sedan, parking is a breeze.
Challenges or frustrations
On Sunday, I'm switching cars around in the driveway so that I can charge the Polestar one last time, and I'm surprised by how powerful the Subaru feels in comparison. I'll need to remember to go easy on the accelerator when parking and reversing it while I readjust to petrol power this week!

I take my Camry Hybrid to get petrol and actually check my tyres for flats when filling up because the ride feels so bumpy. But everything is as normal, I think I've just got used to the seamless cocooned feeling of driving the Polestar.
Kilometres travelled: 100km
Charged: Again, I make the use of sunshine and solar panels to charge at home. It's still not fully charged after sunset though, so some of that power will be less than green.
EV experience in a nutshell
The EV was such a smooth ride, and I loved the silence.

Getting the chance to drive the car over a number of days, and occasionally going back to my own in between gave me the chance to really get a feel for the Polestar 2, and EVs in general.

Public charging was not easily accessible in the outer northern suburbs. What I liked about charging the EV at home was knowing that I could fix the level of charge without having to go out. Without a home battery, charging an EV doesn't seem green enough.

Before I had done a lot of reading about EVs, and was for them, but having real world experience has made me more confident that they are the future of driving.
Want to trial an EV?
If you would like to be involved, please register your interest and we'll keep you up to date on possible future trials.