19 June, 2019 By: Wendy Caccetta
Nearly 8,000 aircraft move in and out of Perth Airport each month, crisscrossing our skies in a perfectly coordinated dance. Meet the team who safely manage those thousands of touch downs and take offs inside the Airport's Traffic Control Tower.
While you're sitting on the runway at Perth Airport buckled up and eager to head off, up in the airport tower, air traffic controllers behind computer screens and radars are coordinating a highly complex operation bringing flights in, clearing others to taxi and sending planes up into the skies.
More than a million air passengers come and go from Perth Airport each month, oblivious to what's happening behind the scenes and unaware of the people who are working to keep air traffic moving and commuters safe.
Patrick Mall is one of those people. Each day the 30-year-old air traffic controller takes an elevator and a steep flight of stairs 80 metres to the top of Perth Airport's Traffic Control Tower - the tallest in Australia.
From there Mall and a team of people command the high-tech control room.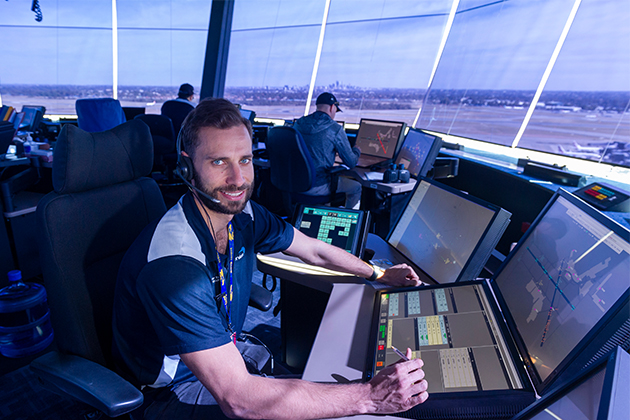 Patrick Mall at his station in the Air Traffic Control Tower
Flying the desk
Mall is a former commercial pilot and also flew with Rottnest Air Taxi before becoming an Air Traffic Controller around seven years ago.
He's been captivated by flight since childhood.
"It all stems from when I was very young back when you could still visit the cockpits," he says.
"Back then they were like 'No worries'. On one of the flights, the pilots let me stay in the cockpit for the landing as well."
It's not easy to become an air traffic controller. Mall was among only three per cent of applicants assessed to have the numerical, spatial reasoning, communication and decision-making skills needed for the job.
After a year of intensive training in Melbourne, graduating controllers are allocated to 28 towers nationally where they spend another three months under supervision and learning local conditions, such as the strong easterlies that blow across the Perth escarpment in summer.
Mall was posted back home to Perth which has Australia's fourth busiest airport, where 25 controllers are clearing 400 planes a day for take offs and landings, from small King Airs to commercial A380s and even the world's biggest plane, the Antonov An-225 Mriya, which visited in 2016.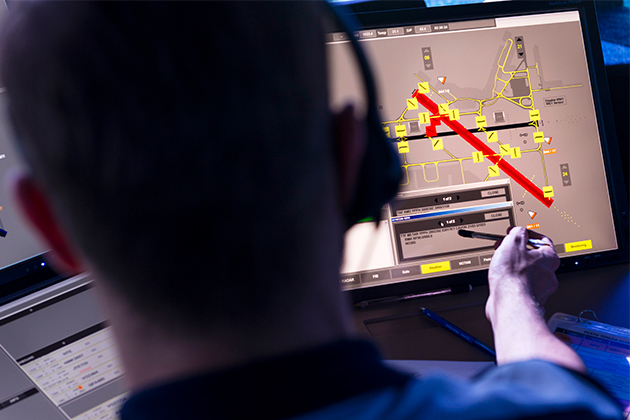 Directing aircraft movements from the Control Tower
Flying out
When a plane leaves Perth it typically passes through an intricate relay of controllers. In the first five minutes the plane takes instructions from the ground controller before being passed to the tower controller to get airborne.
"Then at about 500 feet we transfer them to what is known as the Terminal Control Unit, who are also Airservices staff located on the other side of the airfield between terminals three and four," says Mall. "They monitor the airspace out to about 36 nautical miles. From there planes get transferred to what is known as Melbourne Centre.
"So about 15 minutes after you take off from Perth you're being controlled by controllers in Melbourne.
Mall says in normal circumstances it is impossible to lose contact with a plane from the tower.
"Planes are tracked using satellite technology and radar. All these aircraft have systems that send messages to us. We simply can't lose a plane in a tower environment."
---
Enjoying this article?
Sign up to our monthly enews
---
Controlling the skies
The Melbourne control centre looks after our southern skies, working closely with South Africa, Mauritius, the Maldives, Sri Lanka, Indonesia and Auckland, while a centre in Brisbane looks to the north, including Indonesia, Papua New Guinea, New Zealand and Fiji.
"If you're a pilot, within one flight you can be speaking to 12 controllers domestically and many more internationally," Mall says.
Commercial air routes in Australian skies are set by Airservices Australia. A multitude of rules govern everything from when a plane can be on a runway to when another aircraft can be behind it and when a plane can be cleared for takeoff or landing.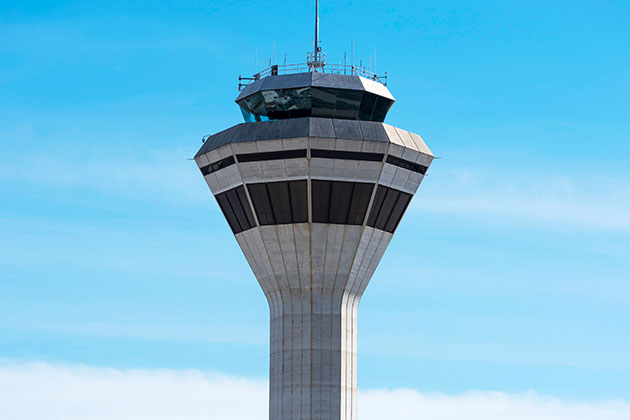 The highest air traffic control tower in Australia at Perth Airport
While many things fall within the air traffic controller's domain, a lot don't. A plane delayed on the tarmac, for instance, may not necessarily be waiting for tower clearance.
"You can be sitting ready on the runway, but the pilots aren't ready," Mall says. "We're ready, but often it takes a while because they have to do their checklists."
"Also, some aircraft are faster, some are slower, so you can't launch a slower aircraft and then a faster one right behind it. They have to wait a certain distance."
Decisions such as which flights go ahead or are cancelled in bad weather or in circumstances such as volcanic ash over Bali, rest with the airlines and pilots, though air traffic controllers provide vital information on local conditions.
"Emergencies, while not common, do happen, and air traffic controllers need to be ready. We have two different phases which the airport gets ready for," says Mall.
"One is called a local standby, for when an aircraft has technical issues and requests services. For that the aviation rescue firefighting services and airport-based agencies will turn up."
The next level up is a full emergency.
"I've been involved in a couple," says Mall. "We once had an aircraft lose one engine as it took off. Most airplanes can fly on one engine — that's part of why they have two — but they ended up holding for 15 minutes and then returning and landing safely.
"However, we still had to go through all the emergency checklists and make sure everyone was called, that all the fire attenders are at the right positions and runway inspections are done afterwards, because if something falls off an airplane in an emergency you don't want it sitting on a runway."
But with the sheer volume of planes taking off and landing safely every day, Mall says Australia's skies are in good hands.
"The amount of safety systems that are in place all the way from when an aircraft is designed to where we move them is impressive.
"Flying is still by far the safest way in the world to travel.
Photography by Stewart Allen
Going overseas?
Make sure you've got your travel insurance sorted before you fly. RAC offer reliable and well-priced travel insurance that will cover you overseas for a huge number of activities and scenarios.
Get a quote