4 November, 2019 By: Wendy Caccetta
When you live close to one of the most famous dolphin pods on the planet, there is never a dull moment - and long-time Monkey Mia resident Martin Grenside never tires of the place he calls home.
Most people see the images on magazine covers or in wildlife documentaries, but Martin (or as he prefers to be known, Marty) has the wonders of the natural world unfolding literally at his feet.
He is one of 60 to 80 people who live at Monkey Mia, 900km north of Perth, the bay famous for its wild bottlenose dolphins which visit daily, and an epicentre for international dolphin research.
The community of residents look after guests who stay at the RAC Monkey Mia Dolphin Resort, which Marty heads as manager. What is a bucket list destination for many people is home to Marty and his family, and he sees his most famous inhabitants, the dolphins, every day.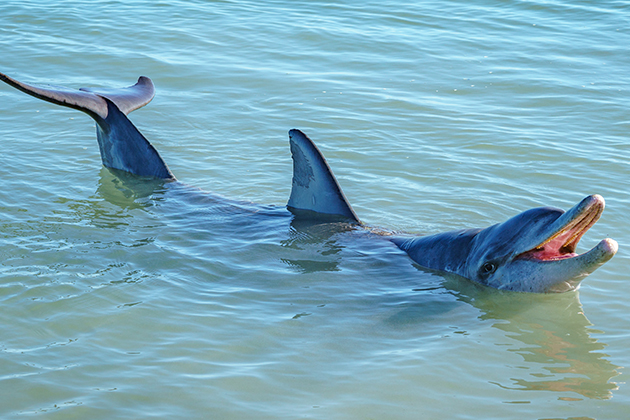 It is a life that comes with special privileges such as witnessing the action-packed stunts of the dolphins as they chase fish, sometimes herding them towards the shore and then deliberately beaching themselves as they knock their quarry onto the sand.
"As the fish are stranded they will munch on them and then they will work their way back to the ocean," Marty says. "I've had National Geographic come and film for six weeks to try and capture that scenario. I've had that happen right in front of me - to the point of 'do I stand up and help this dolphin back in the water?'"
Love at first sight
Marty, 52, didn't always live close to nature. Twenty-five years ago he was living in Sydney when he was invited to be best man at a friend's wedding on a cruise boat off Monkey Mia. Captivated by the magical waters, camaraderie and good fishing, he never left.
He worked his way to the top, starting off in the resort's laundry and also doing spells in its retail operations, reception and as assistant manager. With about 35,000 guests a year staying at the resort from all over the world, it's a busy role.
"I try and teach my kids to say hello to everyone they walk past because people can pay thousands of dollars to come from the other side of the world just to visit and that might be the only thing on their list," Marty says. "I'm very aware of it and I try and convey that to my kids and staff."
While the dolphins are the stars, Marty says the area has other, lesser known attractions.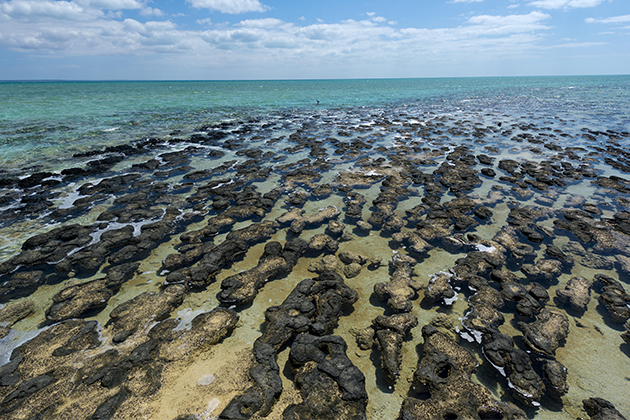 "We've got some of the best living examples of stromatolites (ancient marine structures), and we also have some of the world's best endangered birds," he says.
Marty says people who believe in the healing power of crystals also consider Monkey Mia one of the world's crystal hotspots, and at one time they were a familiar sight meditating on the beach.
Even if you don't believe in crystals, Marty says Monkey Mia weaves a certain magic. "Monkey Mia has this very calming feeling," he says. "When you get here, any sort of stress just disappears."
Outside of work, he says family life in the remote paradise is unique. He and partner Linda Ironfield have three children aged 15, 13 and 10.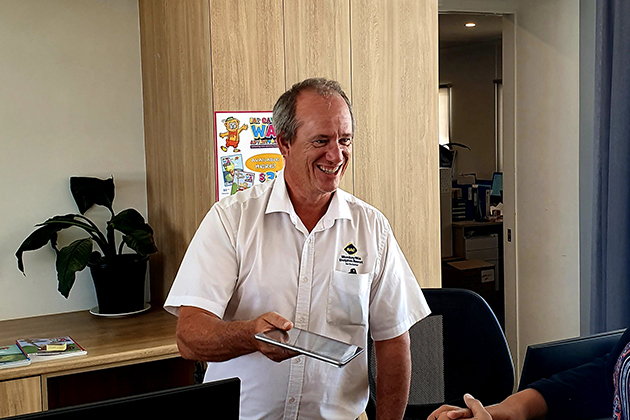 With about 350 days of sunshine he says it's perfect for fishing and exploring. The nearest town, Denham, with a population of about 800 people, is about 25kms away. "We create our own entertainmnent," Marty says. "There is nowhere you can go to pay for entertainment, and nothing within 500kms."
Enjoying this article? Check out:
10 useful apps for WA travel »
The most popular Instagram spots in WA »
Up close and personal with the Coral Coast's underwater wonders »
"There is the outdoors and it is up to you to go and do things. I have a boat and a quad bike and basically that covers everything off."
The family has a weekend ritual. "My 10 year old loves eating oysters off the rock," Marty says. "We've got a special place about five kilometres away and you can tell no one ever goes there."
A family affair
When New Zealander Chris Root, 39, arrived in Monkey Mia seven years ago it was as if he had found Shangri-La, a place better than any other in all his travels around Australia, New Zealand and Asia.
With a background in remote hospitality, especially food and beverage, he is the resort's assistant manager.
Chris says the Monkey Mia community, made up of long term residents and short term working travellers, is like a family. His partner Katrina Chang is the resort's housekeeping manager.
He says the dolphins, too, are inseparable from life in the bay. When there is a death in the pod, the human community also mourns. "If we lose a dolphin it is like losing a family member," he says.
For Chris, an average working day starts at about 6am when he sets about making sure everything is in order for the 1200 guests who can stay at the resort at any one time. Accommodation ranges from facilities for backpackers and those in caravans to beachfront villas and cabins.
There are daily meetings with the food and beverage team, the hotel and reception staff, and the housekeeping and maintenance departments.
"I believe it is the best resort in Western Australia," Chris says. "That makes it a proud place to work."
On the rare occasion when it rains, it's a big event for locals.
"We're running out and touching the rain because we don't often see it," Chris says. "It's the bay, the rain doesn't come in. I haven't seen a rainy day in years."
Chris says May and November are two of the best times to visit. "They both have little wind and are perfect in temperature."
As for those who know Monkey Mia well, Chris says the connection to the bay runs deep. "It takes a part of your soul this place," he says. "People who leave never forget it."
Images: Shutterstock, Martin Grenside
Want to pay the Monkey Mia dolphins a visit?
RAC members save up to 20%* on stays at the RAC Monkey Mia Dolphin Resort.